Hill Guitar Company will be sponsoring the third concert of the Santa Cruz Chamber Players Concert Series!
Evolution of a New Kind of Trio: The Black Cedar Trio performs Old Europe, the New World, and Asia
Music by Mozart, Paganini, Nathan Kolosko, and Chinery Ung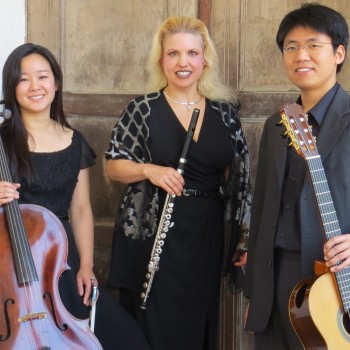 Kris Palmer, artistic director and piano
Nancy Kim, cello
Steven Lin, guitar
There was a flowering of trios written for violin, cello, and guitar during the late eighteenth and early nineteenth centuries. Mozart's
Grand Trio in E minor
expresses his mood of heartfelt longing over his mother's recent death. Paganini's
Terzetto
shows the brilliance typical in his violin writing, and when performed on the flute instead of the violin, these works create the foundation for modern compositions written for flute, cello, and guitar. Nathan Kolosko's
Hungarian Trio
is a celebration of traditional Hungarian folk melodies and dances, using compositional techniques that mimic the Hungarian shepherds' flute, ütőgardon, and cobza. "Life is so delicate," says Chinary Ung, and his
Luminous Spirals,
a highly spiritual and contemplative work, reflects this sentiment. It was Ung's first composition after he emerged from a decade-long hiatus from almost all writing in order to aid his fellow Cambodian countrymen.
Saturday, January 17th, at 8pm
Sunday, January 18th, at 3pm
Christ Lutheran Church
10707 Soquel Drive, Aptos
Tickets can be purchased online HERE.
Buy tickets now, you won't want to miss this!